Hermiston Veterinary Clinic can provide limited exotic animal vet services for your birds, small mammals, primates, and reptiles, such as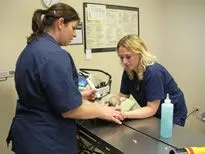 tooth/beak/nail trims, diagnostics, digital radiology, husbandry consultations, and surgery. If we are not equipped to treat your exotic animal, we can provide referral to an appropriate veterinarian.
Please contact us for more information.