Resources
WSU College of Veterinary Medicine Client Site
American Association of Feline Practitioners
Humane Society of Eastern Oregon/Pet Rescue
The following links provide information concerning certain health issues. We encourage you to learn about any diagnosed conditions, yet also encourage you not to cyber or self-diagnose through internet sites. Your veterinarian is the most qualified, knowledgable person to give medical advice & diagnoses for your pet.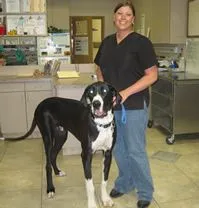 Q: When should I make an appointment?

A: Please try to schedule your pets' appointments as far in advance as possible. If you have an emergency, please give us a call in advance so that we may be prepared when your pet arrives.
Q: Do I have to schedule a separate exam if I already have a grooming appointment?
A: Of course not! This is one of the benefits of using our groomer; pets can be examined for any concerns or have vaccinations updated the same day if requested upon check in with the receptionists.
Q: When can I spay or neuter my dog/cat?
A: We prefer to wait until pets are at least six months old to spay or neuter.
Q: What are the food & water guidelines for my pet who is scheduled for surgery?
A: We ask that pets not have any food after 6:00 pm the evening before their surgery, but water is okay!
Q: How do I collect a urine sample from my dog?!
A: We recommend attaching an unwanted ladle or cup to the end of a long pole and "catching" the urine while you walk him/her on a leash. Also, the fresher the sample the better!
Q: How do I know what kind of dewormer I should use on my pet?
A: We can recommend an appropriate dewormer based on your pet's environment and history, as well as conduct a low-cost fecal test to determine specific parasitic infestations.
Q: Can I drop a stray animal off or surrender an animal to the clinic?
A: Unfortunately, we have limited space at our pet hospital and cannot take in any surrendered or abandoned animals. Please contact our local pet shelter if you cannot keep an animal.
Q: Can I make payments?
A: Payment, in full, is required upon service; we no longer allow payment plans. If you are unable to pay for our veterinary services, let us know in advance. We can help you apply for CareCredit, or you can apply here.