The veterinarians at Hermiston Veterinary Clinic have decades of experience in farm animal care and a strong interest in helping ranchers maintain healthy, productive herds. From the small hobby farmer to the fifth generation family rancher, we can provide veterinary services to fit your needs at our facility or yours!
Herd Health
Feedlot Health
Cow/Calf Care
Bull Breeding Exams & Trich Testing
Semen Testing
Dehorning
Health Certificates
Pregnancy Diagnosis (Ultrasound Available)
Obstretics
Lameness Exams
Internal Medicine
Vaccination Programs
24 Hour Emergency Services Indoor heated working area with stalls and calving area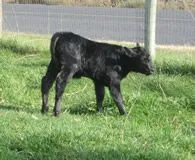 Check out this article in BeefVet, Sustaining Rural Practice Requires An Understanding of Rural Lifestyle, which includes Ryan Rademacher, Dr. Radermacher's son who is attending Oregon State University College of Veterinary Medicine.